Material management is a storeroom technique for parts inventory management. It governs how organizations plan, organize, and control the flow of materials from purchase to delivery. The mission of any materials management program is to keep the right parts in the right quantity, at the right location and time, with the right level of quality at the lowest possible cost.
Worker Roles for Inventory Management Success
The purpose of the maintenance storeroom is to
house materials in a safe, clean, secure, and organized environment
. As a result, three primary aspects make up the materials management process:
Acquisition – Parts procurement (right parts, right quantity, right quality, lowest total cost)
Control – Stores
Movement – Logistics (right place, right time)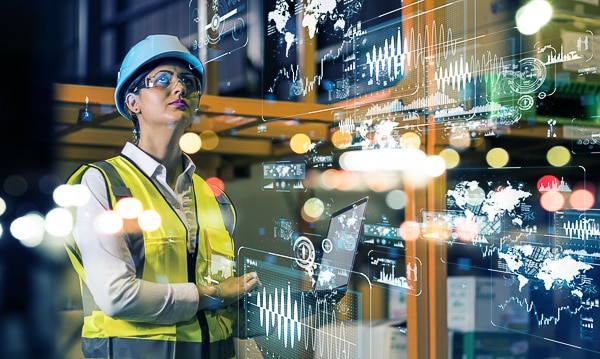 Planners generally trigger materials requisitions, determining the specific materials needed. They determine items, quantities, and dates for each work order. Procurement personnel is responsible for ordering exactly what the planner needs from approved vendors. Vendors provide parts that meet prescribed specifications. After delivery, personnel properly handle and control items in the warehouse area until needed in the field. At that point, logistics personnel arrange materials movements to the final destination.
In most organizations, maintenance storeroom personnel complete material movement, which means that Logistics and Stores are the same teams. Stores teams embed in the middle of the material flow, so they can affect every one of the elements of the mission.
Potential Pitfalls in the Maintenance Storeroom
There are a few unsuspected difficulties when managing a maintenance storeroom. These pitfalls include having the wrong parts in the wrong quantity, parts in the wrong place, delivered at the wrong time, and/or in unacceptable condition. Costs can increase significantly as well. In other words, to avoid these issues and successfully set up and maintain a storeroom, all team members must fulfill their roles and execute their responsibilities consistently and accurately.
Critical Success Factors for a Successful Maintenance Storeroom
Physical planning
Infrastructure – The condition of the maintenance storeroom facility itself is a fundamental challenge — a storeroom in poor condition risks exposure to the elements, which can degrade the quality of the materials.
Location – Too much distance between the storeroom and end-users can cause delays, damaging or losing items in transit.
Accessibility – Based on assessments, as many as half of all maintenance departments have an "open" storeroom plan, where the "honor system" is in effect. Educate your employees on adequate controls and procedures. Above all, put controls in place to handle, manage, and check-out materials properly.
Physical layout – Optimal materials flow is crucial to the ideal storeroom. The factors of an ideal setup include the ability to move material quickly between areas and the ability to move material effectively within each area.
Process Planning for the Maintenance Storeroom
Standardization – Every maintenance storeroom needs to be standardized. In other words, you decide how items will be organized. Is it from left to right or right to left? Top to bottom or bottom to top? Do you place labels above or below? Is this set up the same throughout the storeroom? Is it the same between storerooms?
Visual Management – Providing large visible signage to mark different sections will save time and make the process more efficient. Once a worker has looked up which row and aisle a part is located from the VIN system, markers such as signs and arrows will help guide them to it in the actual storeroom. Labeled maps or diagrams of the floorplan can also be useful designating areas, such as: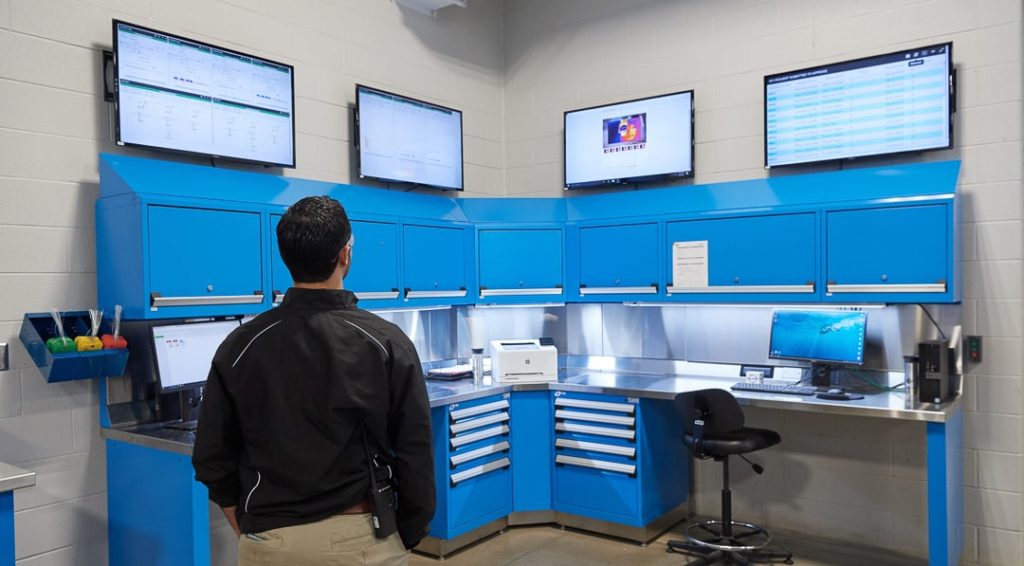 Receiving
Incoming Inspection / Quarantined Material
Returns to Suppliers
Returns to Inventory
Repairable Spares
Kitting
Space Utilization – Determining whether the space is being used efficiently impacts decisions on storeroom size. For instance, simplify your storeroom by:
Throwing out trash
Getting rid of clutter
Segregating non-stock items
Eliminating obsolete materials
Reviewing min/max levels
In addition, calculate maximum inventory by adding Reorder Points (ROP) to the Reorder Quantity. Target utilization is 80%.
Handling Equipment – Teams make sure all handling equipment and supplies are properly maintained. Common struggles that can slow down the operation and frustrate storeroom employees include broken pallets, chronically weak batteries on electric forklifts, parts with wobbly wheels, and hydraulic pallet jacks with leaky seals. Large material handling equipment should have effective Preventive Maintenance programs for production assets.
Continuous Improvement Plan
Perform a Storeroom Assessment to evaluate current processes and practices.
Decide on an Action Plan to identify the continuous improvement and opportunities that can be performed within your organization and storeroom.
Describe the specific activities that need to be completed, how important they are, how long they'll take, how much it will cost, and who the key stakeholders are.
Strategy + Execution = Success
eMaint CMMS and Maintenance Storeroom Success
Above all, an effective computerized maintenance management software (CMMS) system facilitates a successful storeroom. eMaint's parts management software simplifies tracking parts across storerooms worldwide and helps improve inventory accuracy. Organizations using a CMMS set-up reorder points to track parts and auto-generated purchase orders.
Eliminate data entry and duplicate data with barcoding. Use barcodes and QR codes to scan and view part records instantly on a tablet or mobile device, and use Parts kitting to issue or return multiple parts with a single item number.
eMaint client Silver Bay Seafoods set up a comprehensive inventory management program. eMaint tracked transactions and costs for over 10,000 parts. In addition, eMaint CMMS generated barcode labels, allowing parts to be issued and received with a barcode scanner.
To learn more about how eMaint CMMS improves inventory efficiency, speak to one of our specialists.